Au Silikin Village à Kinshasa, la plateforme Nkelo Bantu a organisé un atelier sur le business modèle de l'industrie des médias à l'ère du numérique ce 23 juin 2023 à l'intention des journalistes, des structures de régulation du secteur, patrons des médias, annonceurs, agences de communication.
C'est Michel Collin qui a planté le décor dans cet atelier de 3 heures pour évoquer les nouvelles propositions qu'apportent de l'intelligence artificielle dans la pratique quotidienne. Cet Expert in advertising créativity and future of radio pense qu'il existe des vrais business modèles des médias en Afrique et ailleurs notamment du Groupe Trace.
D'emblée, il a cité dans le modèle économique élémentaire; le service public, Medias privés ou commerciaux et médias communautaires. Pour lui, entant qu'entreprise des médias, il faut s'investir dans la diversification des canaux pour éviter de rester sur son domaine de prédilection pour pouvoir créer une chaine des valeurs.
Evoquant le monde digital actuellement, il indique que le numérique est vaste monde qu'il faut exploiter véritablement pour résoudre certains problèmes existentiels. Il cite ; RadioGpt, Chatgpt, Bard Google. Dans sa conclusion, il souhaite que les médias congolais se réfèrent aux pratiques actuelles qui ont fait des preuves positives pour un business model fiable.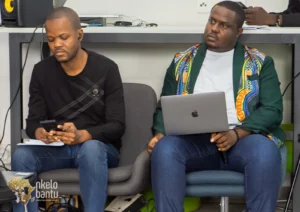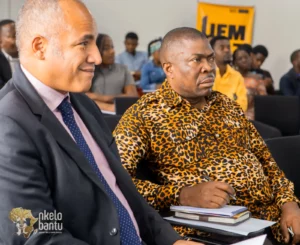 Avant de passer aux échanges dans les panels, Gracy Omokoso, Coach en marketing digital à Kadea Academy regrette que malgré l'évolution exponentielle de la technologique numérique, la RDCongo n'a pas de ressources humaines jusque-là pour faire face à ce défi.
Selon les statistiques évoquées par lui-même, il n'y a que 23/100 congolais qui ont accès à l'internet. Ce nombre est moins représentatif par rapport aux opportunités qu'offre le pays mais, se rassure-t-il, l'évolution est certaine et le métier du numérique est en force croissance.
Parmi les recommandations, il y a eu la règlementation et la régulation. Il a été demandé de renforcer le lobbyng du Conseil Supérieur de l'Audio-Visuel (Csac) auprès des géants du net ; GAFAM (Google, Apple, Facebook, Amazon, Microsoft) pour que les producteurs des contenus congolais soient vraisemblablement rémunérés.
Initié par Nkelo Bantu, cet exercice d'échanges et contributions qui a marqué les esprits des participants, sera suivi d'un autre atelier sur le journalisme durable.
Sommet sur le capital humain, la plateforme Nkelo Bantu vise à créer un espace dans lequel les parties prenantes de l'industrie médiatique peuvent se rencontrer pour discuter de questions, réfléchir, identifier des problèmes et développer les solutions ensemble.
Un article de Onassis Mutombo, arts.cd